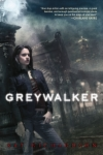 Welcome to the Greywiki
The Greywalker series is an urban fantasy novel series written by Kat Richardson. The books follow the life and adventures of Harper Blaine, a private investigator in Seattle, who suffered a near-death experience and came back with the ability to see and travel into the Grey.
The Grey is a weird region between life and death, an alternate plane of reality that houses ghosts and memories of the past, as well as interacting with other monsters and creatures of legend.
This wiki will serve to give more verbose descriptions of the people, places, and events of Grey Seattle and the life and times of Harper Blaine. It should be noted that this wiki does contain spoilers for the books.
News
[
]
Wiki is up and running, just waiting on contributors to help with content.
Latest activity
[
]